LAHAINA, Hawaii (AP) — The death toll as a Wildfires destroy historic Maui With the death toll rising to 93, officials warned efforts to find and identify the dead were still in their early stages. The wildfires are already the worst wildfires in the United States in more than a century.
Teams with cadaver dogs covered just 3% of the search area, Maui Police Chief John Pelletier said Saturday.
"We have an area of ​​at least 5 square miles that is filled with our loved ones," he said, adding that the death toll is likely to rise and "none of us really know. The extent of it is still there."
He spoke as federal emergency workers took in the ash landscape left by the fire that gutted the centuries-old town of Lahaina. Crews marked the ruins of houses with a bright orange "X" to mark the initial search, and "HR" when they found human remains.
Pelletier said identifying the dead is challenging because "we're picking up remains and they're falling apart." The remnants have come through the "fire that melts the metal." He said only two people have been identified so far.
During the search effort, the barks of cadaver dogs echo across the hot, colorless landscape, alerting their handlers.
"This will certainly be the worst natural disaster Hawaii has ever faced," Gov. Josh Green said as he toured the disaster along historic Front Street. "We can only wait and support the living. Our focus now is to reunite people if we can, get them housing, get them health care, and then rebuild.
At least 2,200 buildings were damaged or destroyed in West Maui, almost all of them residential. Across the island, damage is estimated at around $6 billion.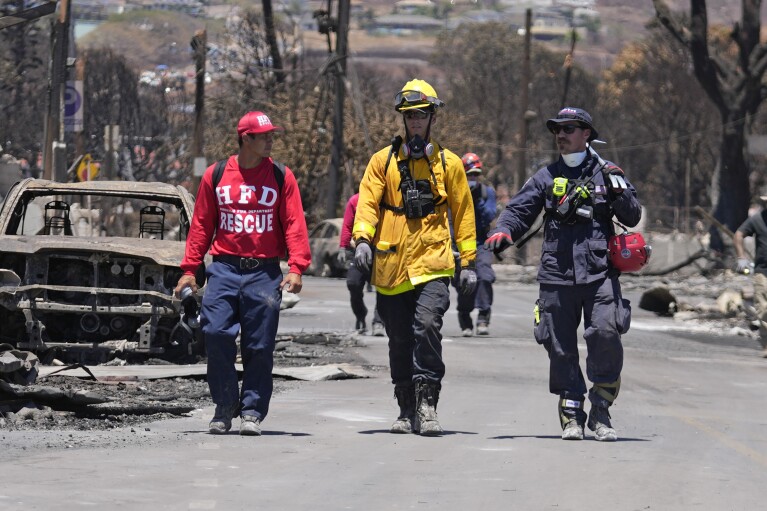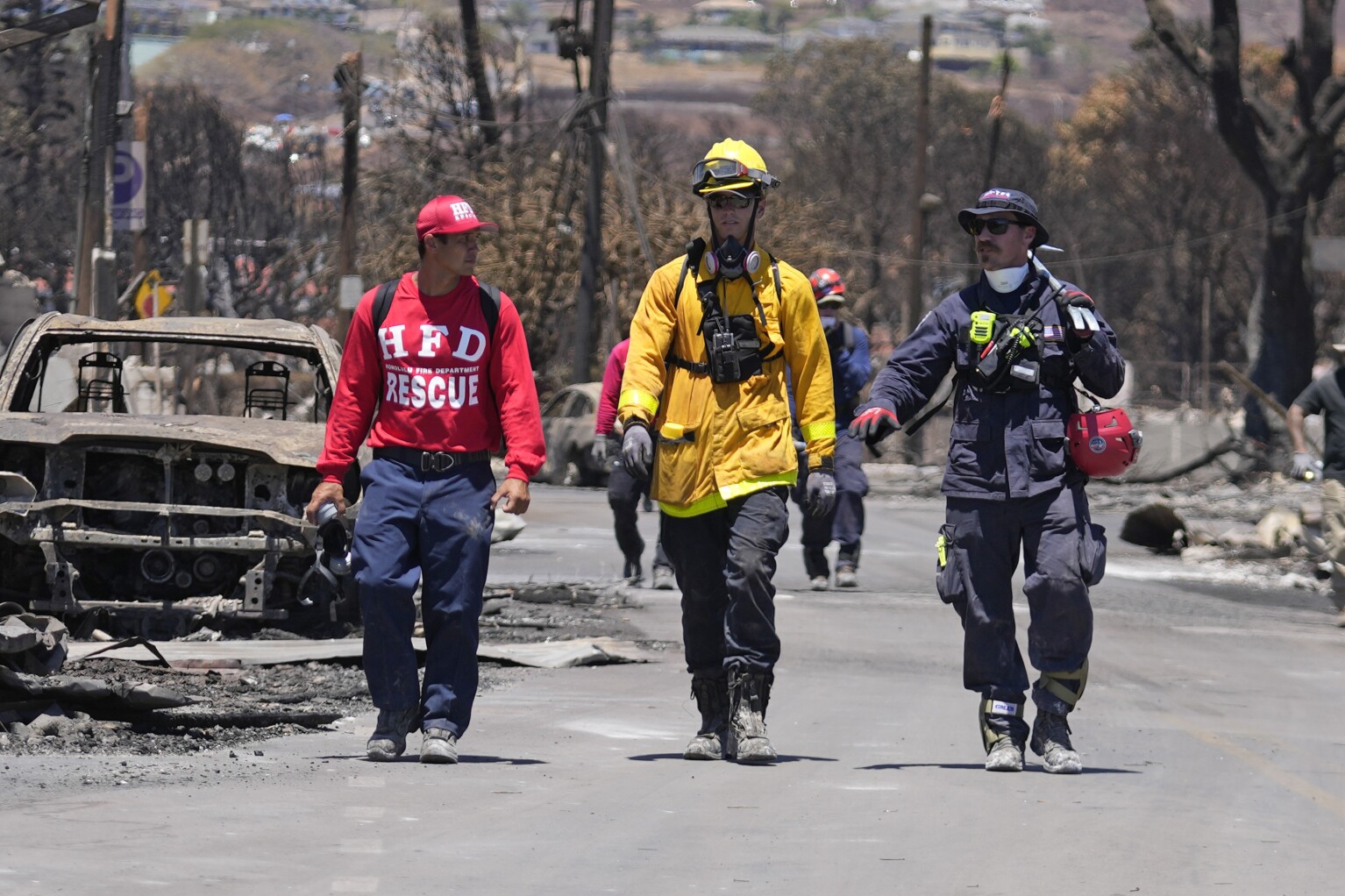 At least two fires are burning on Maui: in South Maui's Kihei area and inland communities known as the Highlands. There was no casualty in the fire.
The fire in the Highlands affected 544 structures, most of them homes, Green said.
County officials said on Facebook that 4,500 people needed shelter, citing figures from the Federal Emergency Management Agency and the Pacific Disaster Center.
Pellitier encouraged people with missing family members to go to the Family Assistance Center for DNA testing.
"We need to identify your loved ones," Pelletier said.
Those who survived were thankful to be alive and mourned those who didn't.
Retired Fire Chief Jeff Boger and his friend of 35 years, Franklin Trejos, initially stayed behind to help others in Lahaina and save Boger's home. But by Tuesday afternoon, as the flames got closer, they knew they had to flee.
Each escaped in their own car. Boger's vehicle wouldn't start, so he broke the window to get out and then crawled on the floor until a police patrol found him and brought him to the hospital.
Trejos was not so lucky. When Boker returned the next day, he found the bones of his 68-year-old friend in the back seat of his car, lying on top of the remains of Boker's beloved 3-year-old golden retriever, Sam. Tried to protect.
Trejos, a native of Costa Rica, lived with Boger and his wife, Shannon Weber-Boger, for years, helping with seizures when her husband couldn't. He filled their lives with love and laughter.
"God took a good man," Weber-Boger said.
The latest death toll is higher 2018 Camp Fire In Northern California, it killed 85 people and destroyed the town of Paradise. More than a century ago, the 1918 Cloquet Fire broke out in drought-stricken northern Minnesota and raced through rural communities, destroying thousands of homes and killing hundreds.
The wildfires are Hawaii's worst natural disaster in decades, following the 1960 tsunami that killed 61 people. Even more dangerous was the 1946 tsunami that killed more than 150 people on the Big Island, prompting the creation of a territory-wide emergency warning system with sirens that are tested monthly.
Hawaii emergency management records do not indicate warning sirens sounded before the city caught fire. Officials sent alerts to cellphones, televisions and radio stations, but widespread power outages and cellular outages may have limited their reach.
A as fuel Dry summer and strong winds from a A passing stormWildfires on Maui ran through the dry brush covering the island.
"It surpassed anything firefighters could do in the early hours of the morning," said Lori Moore-Merrell, U.S. Fire Marshal.
The most intense fire tore through Lahaina on Tuesday and destroyed every building in the town of 13,000, leaving a grid of gray rubble between the blue ocean and lush green slopes.
Maui water officials warned Lahaina and Kula residents not to drink running water, which can be contaminated even when it boils, and to take only short, dull showers in well-ventilated rooms to avoid exposure to chemical vapors.
Maui's firefighting efforts may have been hampered by limited personnel and equipment.
Hawaii Firefighters Association President Bobby Lee said there are no more than 65 county firefighters on duty at any given time, who are responsible for three islands: Maui, Molokai and Lanai.
Lahaina resident Riley Curran said she doubts county officials could have done more given the speed of the flames. He fled his front street home after seeing flames coming from the roof of a neighboring building.
"It's not that people aren't trying to do anything," Curran said. "The fire went from zero to 100."
More than a dozen people formed an assembly line Saturday on Kaanapali Beach to unload water, toiletries, batteries and other essentials from a ship from another part of Maui.
David Taylor, director of marketing for the boat's owner, Kai Kanani Sailing, said many of the items are for hotel workers who have lost their homes and are living with their families at their workplaces.
"The aloha is still there," he said, and the group applauded as they finished unloading the boat. "We all feel that very strongly, and everybody wants to feel like they can do something."
Caitlin McKnight, who also volunteers at the emergency shelter at the island's war memorial, said she tried to stay strong for those who lost everything.
"Those people, those families, the Maui Ohana people, it was clear that they had been through a traumatic event," McKnight said, using the Hawaiian word for family. "You can see it in their faces."
___
Kelleher reported from Honolulu, and Dubui reported from New York. Associated Press writers Rebecca Boone in Boise, Idaho; Andrew Selsky in Bend, Oregon; Bobby Kaina Galvan in New York; Audrey McAvoy in Wailuku, Hawaii; Ty O'Neill in Lahaina, Hawaii; and Lisa J. Adams Wagner in Evans, Georgia contributed to this report.
___
Associated Press climate and environmental coverage receives support from several private foundations. See more about AP's climate initiative Here. AP is solely responsible for all content.