CNN
—

Roads outside the Burning Man festival could reopen on Monday for the 72,000 people trapped in the Nevada desert for a third day.
"It's still difficult. There's still mud, there's still areas you have to avoid, but slowly but surely we're getting around it," Black Rock City Superintendent Tony "Coyote" Perez told CNN on Monday.
Roads in and out of Black Rock City, a temporary city set up each year for the event, were closed starting Friday night, and event organizers imposed shelter-in-place orders the next day. Flooding made it almost impossible for vehicles to drive on the surface.
"People are trying to get out, but the roads are still muddy, they're still waterlogged, so they're building up, and people are working together to get out of the jam," he said.
A remote area in northwestern Nevada received two to three months' worth of rain — up to 0.8 inches — in just 24 hours between Friday and Saturday morning. According to a Sunday night update from Burning Man organizers, about 72,000 people are on site.
The week-long festival is scheduled to end on Monday, but it is unclear when participants will be allowed to leave the area.
Organizers of Burning Man Said before Monday's "evacuation" was supposed to begin at noon (3 p.m. ET) but has since pushed back that deadline.
"Gate Road is very wet and muddy, making it impassable for most vehicles from PRC this morning, but dry," organizers said. Published Monday at noon X, the site formerly known as Twitter. "The evacuation will begin this afternoon."
"We will update you again as soon as possible," they added.
Sunny and dry conditions in western Nevada on Monday "will allow for a significant improvement in muddy conditions for the Burning Man festival," CNN meteorologist Dave Hennon said. Highs are expected to reach around 75 degrees.
Diplo and Chris rock trudge, then hitchhike

Some had already driven through the thick mud and left the site, but "most of the RVs were stuck in place," Pershing County Sheriff's Office Sgt. Nathan Carmichael said Sunday.
"Every step felt like we were walking with two huge cinder blocks on our feet," said Amar Singh Dugal, who walked about 2 miles through the mud before leaving the festival with his friends.
Among those trekking through the mud was DJ Diplo, who spent several hours in the mud trying to get to his concert in Washington, DC, hours later.
"I have some really strong leg muscles after that walk," Diplo told CNN Monday morning. He also credits duct tape and good boots that were "like three pounds each at one point" for helping him walk the miles.
Then a fan presented Diplo — whose real name is Thomas Wesley Benz — and Comedian Chris Rock A ride.
"A kid recognized me on the road and said, 'Hey, I'll give you a ride the next couple of miles.' Of course, we happily accepted," Diplo said.
Burning Man – the huge totem burnt at the climax of the festival – was moved from Sunday night to Monday due to bad weather. Organizers said Sunday evening.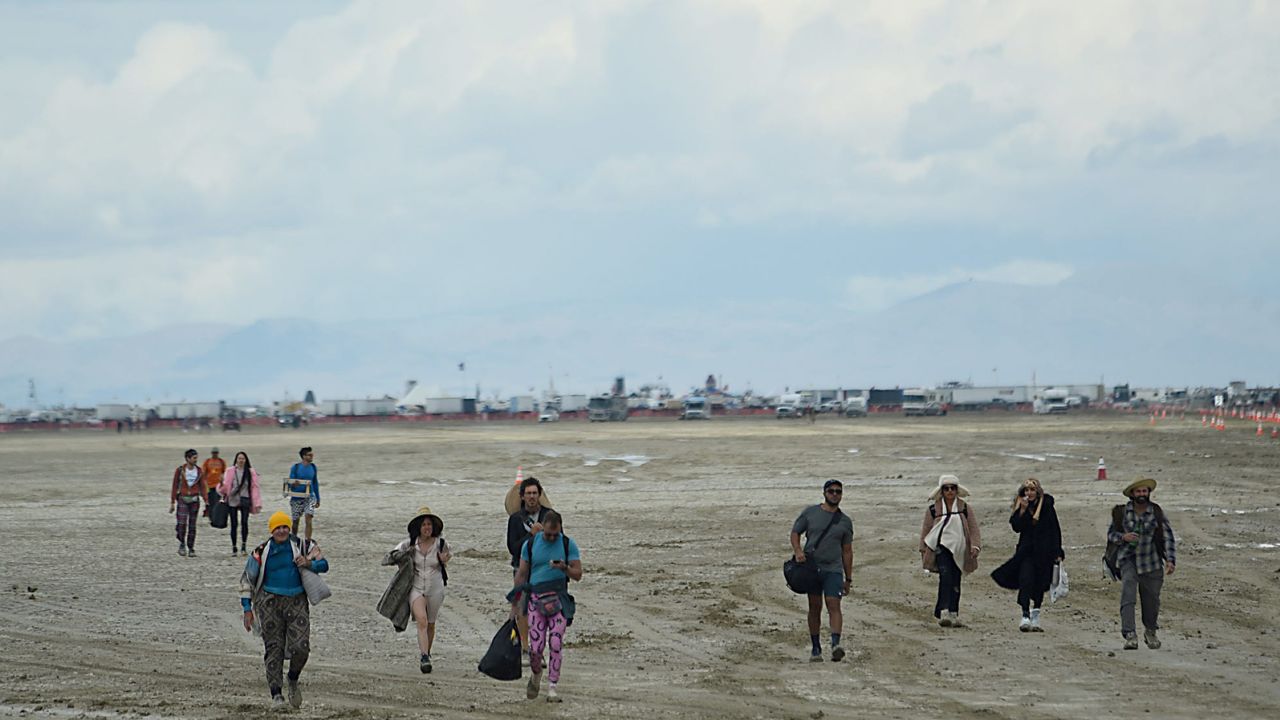 Burning Man organizers said Sunday night that one death at Friday's festival was "unrelated to the weather."
"Our emergency services department reached a call for service very quickly for a man in his 40s and was unable to revive the patient," organizers said, without providing further details.
The Pershing County Sheriff's Office said it is investigating the death.
The sheriff's office said resources were brought in from around northern Nevada to help those with medical needs at the event grounds.
Organizers also gained more Four-wheel-drive vehicles and all-terrain tires help transport people Medical and other urgent needs.
Black Rock City, a temporary metropolis erected annually for the festival, comes complete with emergency, security and health infrastructure.
"We have done table-top exercises for such events," festival organizers said. "We are fully engaged in all aspects of security and look forward to Exodus as our next priority."
Festival goers — accustomed to braving the intense heat of the Nevada desert — instead contended with rain and mud, rationing supplies and dealing with connectivity issues.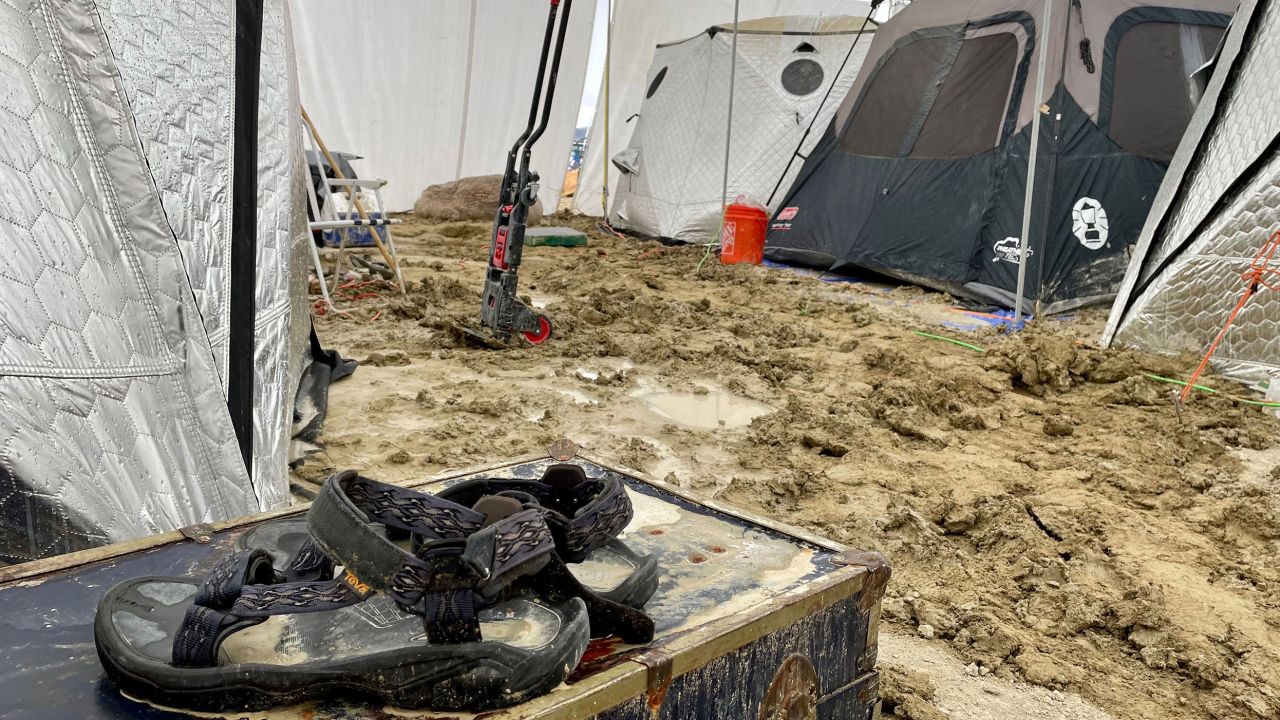 With roads closed in and out, attendees are stepping up and offering food and shelter to those in need, festival goer Gillian Bergeron told CNN on Sunday.
"Most of the people out there go out fairly regularly, and they certainly did a good job of it," Bergeron said. "It's a great community, people helping each other with food and water and shelter. If anything, I think that might have strengthened the core community.
Another participant caught up in Burning Man, Andrew Hyde, said the weather took the event's meaning back to its roots.
"You come here to be in extreme weather, and you prepare for it," Hyde told CNN on Saturday.
Burning Man also described heightened morale among participants sharing resources. "Music is played, camp meals are shared, socializing and walking around the playa to look at art and connect as a community," organizers said in an update Sunday night.
However, there is concern as to when the roads will be reopened.
"People need to get back to their jobs, get back to their responsibilities back home," Hyde said.
Bergeron also found people worried.
"Certainly some were completely beside themselves They asked if their tickets would be refunded … they missed their flights," he said.
"It depends on their experience level, their comfort level there and then where they have to be on Monday or Tuesday morning."
Still, the poor conditions didn't stop creativity, said first-time participant Hannah Barhorn.
"People are making clay sculptures," he said Saturday evening.